Drag & Drop Page Builders for Drupal
Sep 06 2018
According to the Web Technology Survey for March 2018, Drupal is ranked the third most popular CMS in the world. Approximately 2.2% of all sites on the Web are based on this engine not to say among the resources using CMS, the share of Drupal reaches 4.3%. Perhaps, Wordpress surpasses Drupal its popularity but the fact remains: this is an excellent open source content management system to create modern sites, whether a personal blog or an online store. Unlike WordPress, Drupal is more powerful and flexible, which means you'll have more options and features to use. The site configuration might seem a bit tough but compared the following perks of Drupal we will highlight right now, one doesn't seem like a super big problem:
Unlike other CMS, Drupal is more functional and that's why developers love it;
Drupal offers a huge number of configuration options with a variety of themes. In particular, plugins allow developers to bring into reality the most specific site requirements. Also, you can easily modify files in Drupal kernel, which is a great advantage for developers;
Drupal provides a high level of security and the ability to generate detailed security reports.
This article will let you compare
3 most popular, convenient and simple Drupal plugins
, which allow you to create a page structure of any complexity without knowledge of HTML code. Such plugins, aka drag-and-drop page builders, let you not only easily create various pages, but also make changes in the process (rearrange page blocks, create, export and import layouts, use built-in widgets, etc).
Glazed Builder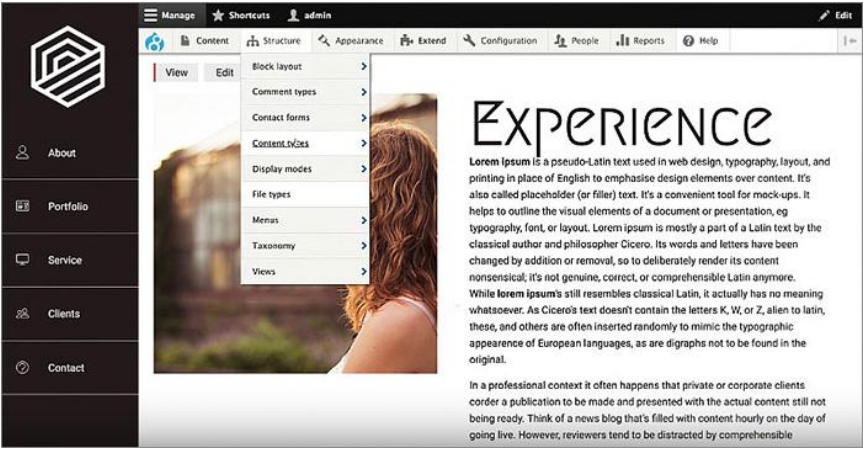 Glazed Builder is currently one of the most powerful, convenient and fastest drag-and-drop editors for Drupal 7 and 8. This unique drag-and-drop editor supports multilingual websites and other dynamic content. Here is more of what you can do using Glazed Builder while working with Drupal CMS:
Implement any Drupal block (it can be a login form, menu block, or custom module block);
Create unique content sliders in seconds with a host of carousel elements;
Customize views displays on the go. The module lets you use single views displays in various configurations;
Use exposed and contextual filters in the frontend;
Simplify sidebar and footer content updates;
Implement call-to-action blocks using Ajax Element or other content that repeats across the website;
Build various layouts faster with positioned elements. With the positioned elements tool, you can get a little more creative and use absolute positioning to create overlapping design elements without coding;
Build nested rows (row inside a row) and set different breakpoints for nested rows;
Implement drop-in Google Maps;
The software is powered By Bootstrap 3.
Wanna purchase Glazed Builder right now? Visit the
Sooperthemes
website for more information, where you can also try the product's demo version for free and without registration.
Azexo Composer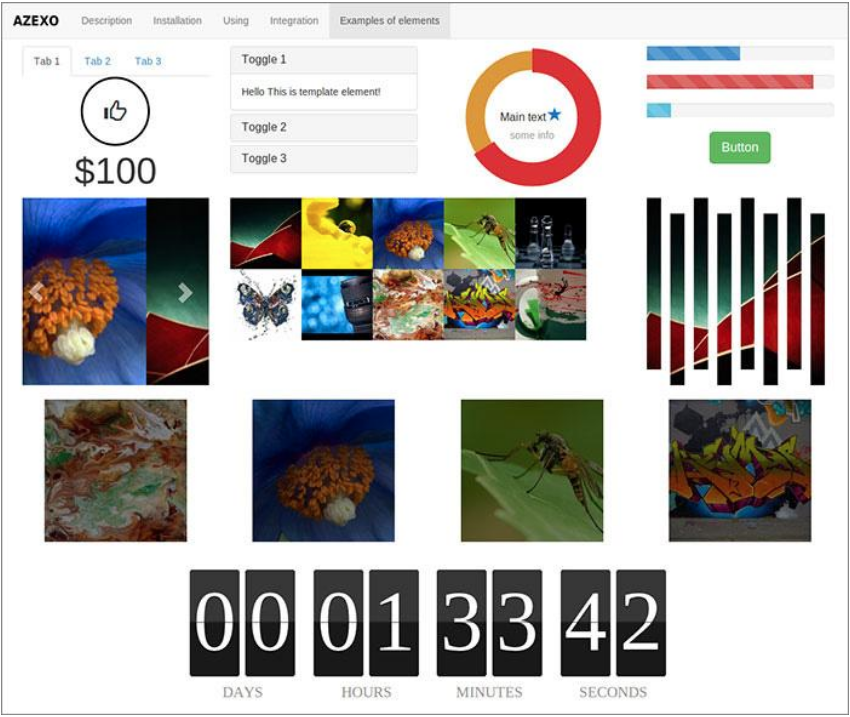 Another WYSIWYG drag and drop
HTML web builder
, Azexo Composer, is based on jQuery, jQuery UI, Underscore and Bootstrap and ready for a convenient front-end content editing. What makes Azexo Composer different from all other solutions is the use of client JS for HTML rendering to work faster and save server resources. It's perfect for creating static landing pages for users with default Bootstrap CSS. Besides, the builder supports all kinds of Drupal ready-made themes to fasten your editing process in times. Finally, Azexo Composer will be a great tool for all graphic designers with no CSS skills, who need to make a website using Drupal.
Other Features:
Integrated front-end content slider, Impress JS presentation, popup and form visual builder;
Elements can be animated with a help of CSS3 engine or JS scroll animations engine (with a help of a visual builder + parallax wizard to create a parallax effect in a few clicks)
Every element has base CSS settings editor;
Custom blocks can be inserted into any theme;
Integration with Drupal blocks, views, image styles, media module and linkit module
Ready for translate via Drupal;
Having JS skills allows you to make as many custom elements as you need that can be later integrated into Azexo Composer page builder and will support all the above-listed features.
If you want to try the online demo, please visit the official
Azexo site
by the link. To purchase Azexo Composer drag-and-drop page builder, visit the
CodeCanyon
marketplace.
MD Awecontent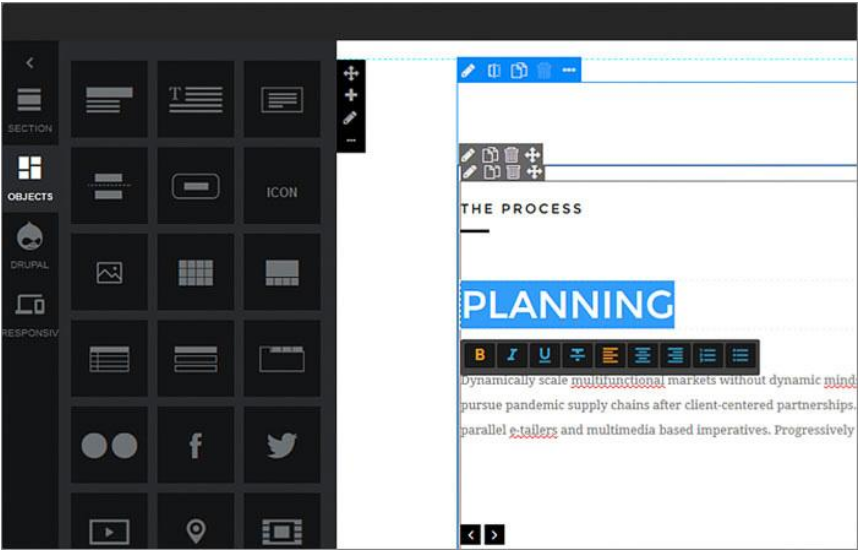 MD Awecontent is another visual module meant to help Drupal users in visual editing. The builder provides a plenty of responsive layout options: Support of any Drupal node. Make nodes for any content types, including custom content types;
Frontend editor. You see what you edit in real time with no need to visit the admin panel and switch to the preview;
Parallax background. Enable a parallax scrolling effect with your background image and you'll get some more interesting effects in the browser;
Video background that will surely draw the attention of the site visitors;
Custom animation of any object using 5 built-in animated effects (expand in, fade in, fly in, spin in and turn in);
Full width and height section im two clicks;
A plenty of ready-made templates that you can copy and use instead of creating themes from scratch over and over again;
A plenty of design options. You'll be able to modify every single element in size, color etc;
Support of Drupal blocks;
Support of image styles;
User Access Support. A special group of users will be allowed to use some module functions;
Fully-responsive layout;
The Bootstrap framework makes the front-end development procer way faster and easier;
600+ Google web fonts;
SEO Friendly;
Easily extendable. Create new and unique objects and integrate them easily into your project theme;
Export and Import. You will always be able to copy some specific settings by exporting and importing them to another site;
Free Lifetime updates. As you purchase MD Aweconent, you'll be getting free lifetime updates, which mean your visual builder will only get better with time.
To view Demo or purchase the product visit the Megadrupal official website.
End of the Line …
In general, all of the 3 presented WYSIWYG visual editors for Drupal are worth your try. Depending on your own requirements, preferences, and skills, one of the modules should become your best helper while creating awesome web pages using Drupal CMS. It's just the matter of your own taste.
Author Bio
Alex Levitov is a tech and web development writer with over 5 years of UX/UI experience. The last 2 years Alex has been running his own web blog. You can find him on
Facebook
and
Google+
.
Main Photo by roman raizen on Unsplash
Learn from us
Sign up and receive our monthly insights directly in your inbox!