Why join ImageX?
We're passionate about what we do — whether it is working with a new client on a strategic project, meeting users for UX testing, developing innovative solutions, or just coming together for a team lunch or social activity.
Sound like something you want to be a part of? Check out our current opportunities below.

What's it like to work at ImageX...
...as a Lead Designer
Meet Mahya
As a lead designer, Mahya's day includes multiple projects at varying stages, from wireframes and hi-fi design she's constantly collaborating with the wider team and our clients.
...as a Project Manager
Meet Anisha
Organization is key within Anisha's role, learn a little about how she stays on top of her busy work and home life.
...as a Software Developer
Meet Joel
Joel balances work and family life whilst working on multiple projects at ImageX.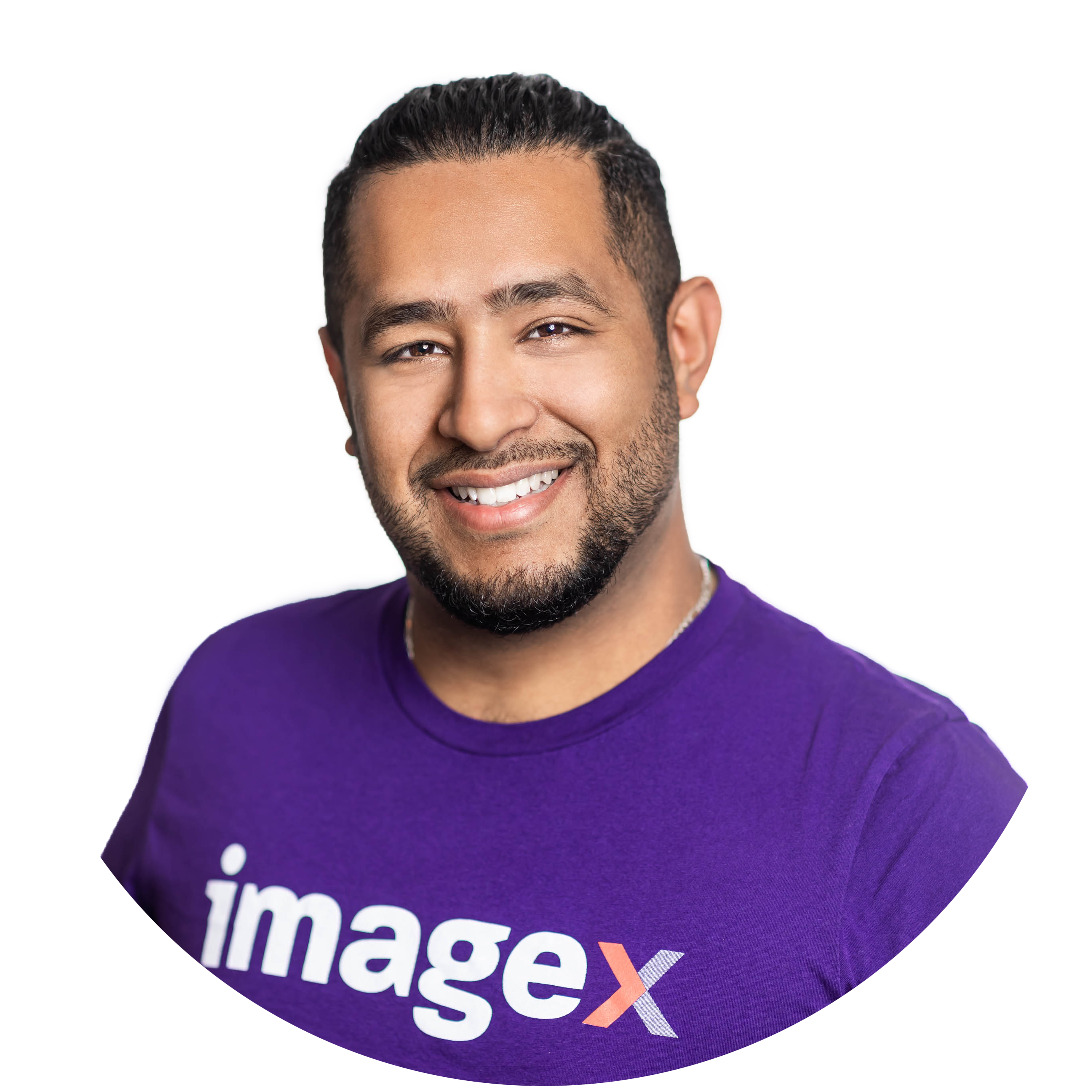 "At ImageX I can express myself by building cool things. And at the same time I can spend time with my family and lead the life that I want."
Joel / Software Developer, ImageX
Current Opportunities
We're always on the lookout for awesome people, who share our values to join our team.
If you can't see the perfect fit for you, contact us and let us know how you can make a difference.
Canada
Digital Marketing Strategist
Location: Remote Canada Canada
Commitment: Part time Employee
ImageX has an immediate opportunity for a talented Digital Marketing Strategist to join our team. We're seeking someone with excellent client engagement and interpersonal skills, the ability to steer ongoing services work, and familiarity with the website development agency world.  
At ImageX, you'll work with great clients and a highly talented and agile team, in an environment where innovation and learning are prized and everyone's voice is heard. Your colleagues are passionate about web development and advocates of delivery excellence.
This is a part-time contract position with the scope for a full-time and permanent opportunity in the future. There will be plenty of opportunities to grow with an industry-leading web development agency that values work/life balance. 
About You:
We're looking for a Digital Marketing Strategist that will possess authentic optimism at their core. You will be someone who is looking for a challenge and is driven to create solutions that generate meaningful results — you will be proud of your work. 
In the past or in your current position you will have created and oversaw the execution of digital marketing initiatives using strategies and tactics such as search engine optimization (SEO), search engine marketing (SEM), email, social media, etc., and analyzed web traffic metrics, monitored SEO/SEM and made recommendations to improve performance. You will also have worked with and helped cross-functional teams develop and evolve ideas to bring that helped achieve overall project goals and objectives.
About the Position:
You'll be able to leverage the entrepreneurial culture of ImageX to apply your marketing expertise and provide measurable value to clients. 
You will consult our clients with a full spectrum of digital marketing support across a wide range of digital marketing channels. The range of services will be provided throughout the client lifecycle, including consulting during the new project phase and in-service agreement support. 
You will be accountable for analyzing their current situation and making strategic & tactical recommendations to help them accomplish their goals. This includes working with clients to create measurement strategies to track digital goals & KPIs that will show the return on their investment.
In this position, you will also be applying your expertise to support the ImageX team during the project phase. You will ensure search fundamentals & digital marketing best practices, that will support our client's goals, are being considered and implemented.
Day to day, you will spend time working on systems and tools like Google Analytics, Data Studio, Google Ads, Screaming Frog, and Moz. You will also work on strategic documents like SEO analysis and SEO content strategy recommendations.
As a Digital Marketing Strategist you will:
Have exceptional consultative skills & expertise in best practice & effective configuration of Google tools (Google Search Console, Google My Business, Google Analytics, Google Tag Manager, etc)
Be adept at analyzing site analytics & performance, providing actionable recommendations and ongoing optimization to improve campaign performance, for example, Google Ads, SEO, etc, and helping clients shape their strategies
Possess demonstrable skills in configuring & implementing analytical reporting to support client needs
Provide analytic support to ImageX design & development teams that can help inform project development decisions
You Need:
2+ Years Experience: PPC (Google Ads) management experience
2+ Years Experience: Social Ads (Facebook Business Manager) management experience
A proven track record of hitting targets and executing your work to a very high standard
Demonstrable skills configuring Google Analytics (custom reports, segments, goals, etc)
Demonstrable skills in setting up Google Tag Manager (tagging, event tracking, etc)
Demonstrable skills configuring Google Data Studio
Nice to Have:
Google Ads Certification
Google Analytics Certification
Familiarity with web technologies, such as JavaScript, CSS, and HTML as related to digital marketing 
Experience working with higher-education institutions or non-profit institutions
Strong understanding of the development of dynamic websites, user experience design principles, and Content Management System technologies (preferably Drupal)
Ability to understand technology as well as business requirements and confidence in consulting with clients on topics such as best practices, long-term solutions, or strategies to facilitate growth
Active involvement in digital marketing communities while tracking new trends and opportunities that can be leveraged for clients
Bachelor's Degree, certifications in related fields
How to Apply:
Please apply through our online application form. 
About ImageX:
Enterprise Drupal, Simply Delivered.
Our team is a distributed workforce with established teams in Canada, Ukraine, and Brazil.  We put extra emphasis on enhancing the virtual relationships, but also work hard to create opportunities to have face-to-face co-working days and other get-togethers in each region whenever possible.  Our goal is to exceed the expectations of both clients and our team – which means we value creativity, involvement, flexibility & being crazy in love with what we do.