ImageX Recognized in the Top 1% of Companies on Clutch.
Dec 15 2022
We are thrilled to wrap up another great year with recognition, once again, in the Clutch Top 1000 Global Companies, showcasing the best in global B2B Service Providers.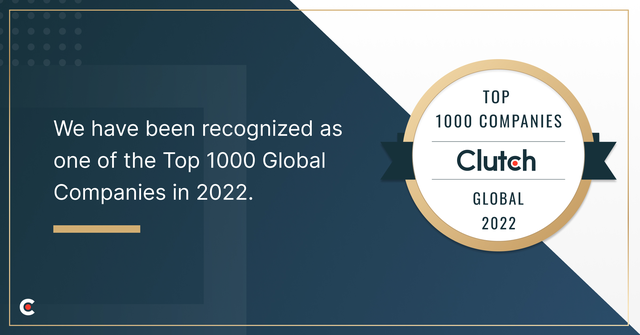 How our ranking is determined: 
Clutch is the leading global marketplace of B2B service providers and the award highlights only the top 1% of companies on the platform across the world. To determine the top 1000 organizations, Clutch analyzes a company's ability to deliver within their service line through:
Number, quality, and recency of verified Clutch reviews
Selection of clientele and portfolio of work 
Robust company profile with competitive specializations and considerable experience
Strong brand awareness and industry recognition 
"According to a recent Clutch survey of over 1,800 B2B service providers, 93% of respondents say that they use online reviews to generate social proof and trust in their work. Our platform provides buyers of B2B services with over 140,000 verified peer reviews to make well-informed decisions about the right external firms to partner with for their business needs." - Head of Marketing at Clutch, Katie Hollar 
What our clients say: 
"ImageX's communication is phenomenal, and they are clearly dedicated to this project's success."
"ImageX makes an effort to listen to their client's requests and figure things out."
"[ImageX] had great feedback and ideas, and they showed a high level of commitment and enthusiasm about the project."
Read more independent reviews from our clients on Clutch.
Interested in working with our team?
Get in touch to discover how our team can provide you with digital solutions to help you achieve your business goals.
Learn from us
Sign up and receive our monthly insights directly in your inbox!