Ashland University

Case Study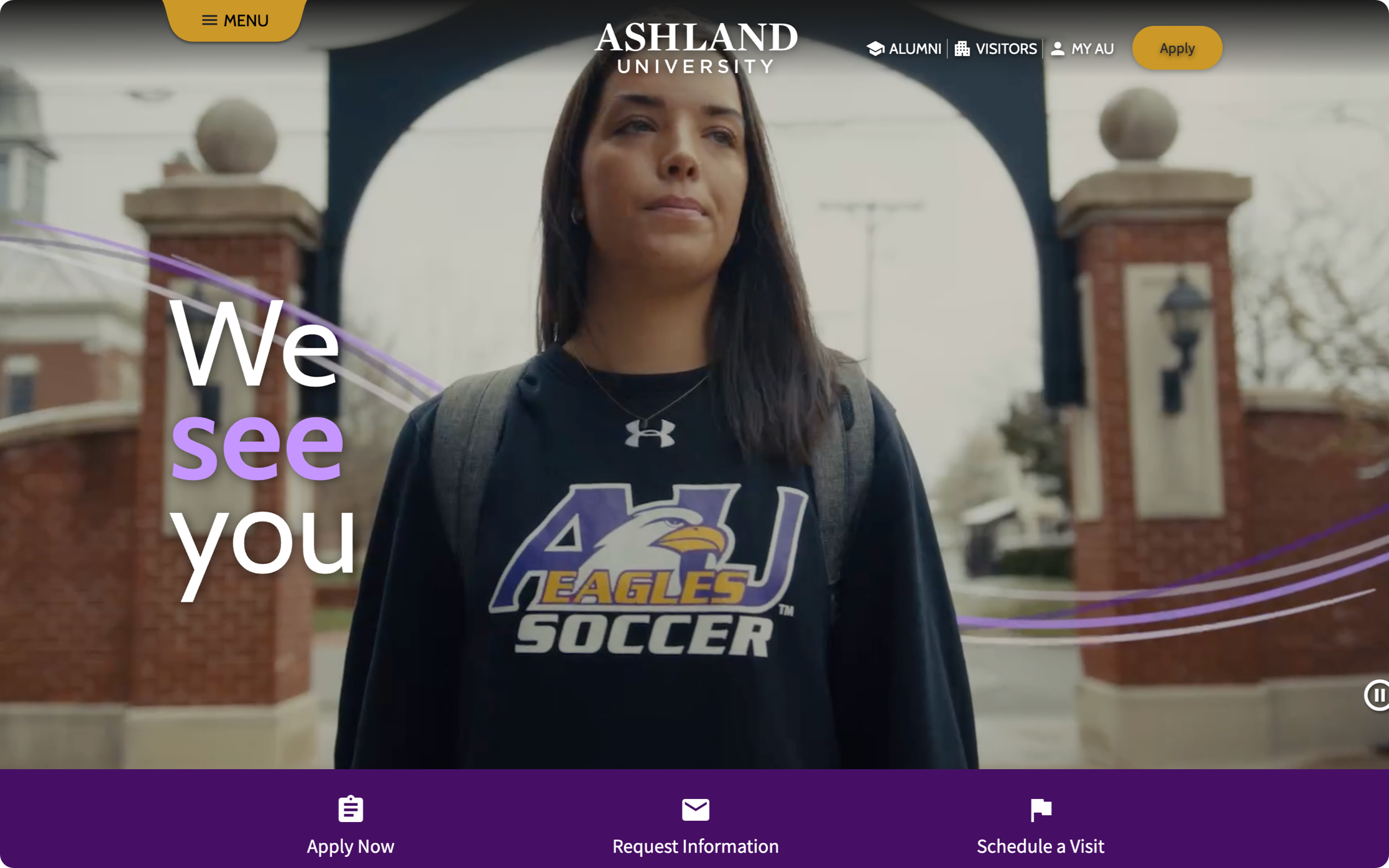 Overview
Ashland University is a private institution founded in 1878. Ashland's motto, "Accent on the Individual," characterizes the university's ongoing commitment to its students — both inside and outside the classroom.
What They Needed
Ashland's website design hadn't been updated in several years. Siloed content and an unclear information architecture made it difficult for visitors to find the information they needed. The overall experience was also not reflective of the value the university places on its students. 
The website needed a total transformation. This meant a migration from Drupal 7 to Drupal 9, an updated content strategy, and a complete visual redesign. As one of its primary marketing tools, Ashland wanted a digital property that reflected the true student experience in order to increase enrollment inquiries, applications, and acceptance of enrollment commitments.
How We Helped
ImageX delivered an end-to-end solution that started with a deep dive into Ashland's goals and long-term vision, as well as its user's needs. We worked closely with Ashland in focused discovery workshops to understand the organization and its goals, get to know the users of Ashland's site and establish meaningful metrics. By honing in on our relationship with Ashland and having an open and flexible communication style, we were able to lead with empathy and operate with a design-thinking mindset.
We also created and tested several creative concepts. The final concept, "We See You," aligned the goals of the website with the larger vision of the university. It also served as the guidepost for the design (visual and content) and development phases of the project.
Armed with an understanding of organization and users' needs and a strong conceptual 'hook', ImageX:
Implemented a story-focused content strategy centered on the new concept, including producing several videos
Updated information architecture to focus on making it easy for students, staff, and other users to quickly find content, particularly on mobile
Designed and tested multiple design ideas to arrive at a design that is clean, visually engaging, mobile-friendly, and user-centered
Ensured the site is universally accessible, SEO friendly, and easy to update, manage and extend over the long-term
Words from
the client
"I felt confident that (the new site) was really going to give prospective students more of an emotional connection to the university than our previous site ever did. It really went so smoothly and I was so relieved to get a quality result for our website." 
Karen Martin, Director of Marketing & Communications
The Results
Initial response to the site redesign has been positive. ImageX was able to successfully tie every element of Ashland's new experience to its overall business objectives. The result is a digital environment that is a true reflection of how Ashland wants to be viewed in the higher education market. Additionally, Ashland has benefited from:
The comprehensive and collaborative approach offered by ImageX — from strategy to design to execution to post-launch support 
The expertise of ImageX regarding content best practices as well as efficiencies gained during the content process 
An ongoing partnership with ImageX to extend the capacity of Ashland's internal team and result in the continuous improvement of their digital environment
In terms of quantifiable results, Ashland saw:
Organic search traffic increased by 230%
Referral traffic increased by 282%
Average engagement time per session increased by 8%
The number of engaged sessions per user increased by 16%