Jul 27 2018
SEO Success
Effective SEO involves a range of different methods. The overall mix of an effective SEO strategy includes a combination of these methods. This generally includes on-page, off-page, local and other factors, but ensuring the fundamental principles of technical and on-page SEO are addressed, is the key to ranking well over time — which is the primary goal of SEO.
Laying the Foundations for Effective SEO
SEO is actually very data driven. The first thing to properly set up are the
SEO tools
you'll use. These tools will collect, analyze and monitor the SEO data. The most important are:
Google Search Console
Without this tool you'll miss critical data about your site's performance in Google. It gives you the data to
monitor
, and then implement and fix technical SEO issues. Google Search Console is also very useful for keyword research, and analyzing UX factors. You connect your Google Analytics from the menu under the gear icon in your Search Console account.
Note:
Other search engines also have their variation of
webmaster tools
. Check your Google Analytics organic search source volumes, and prioritize effort based on that.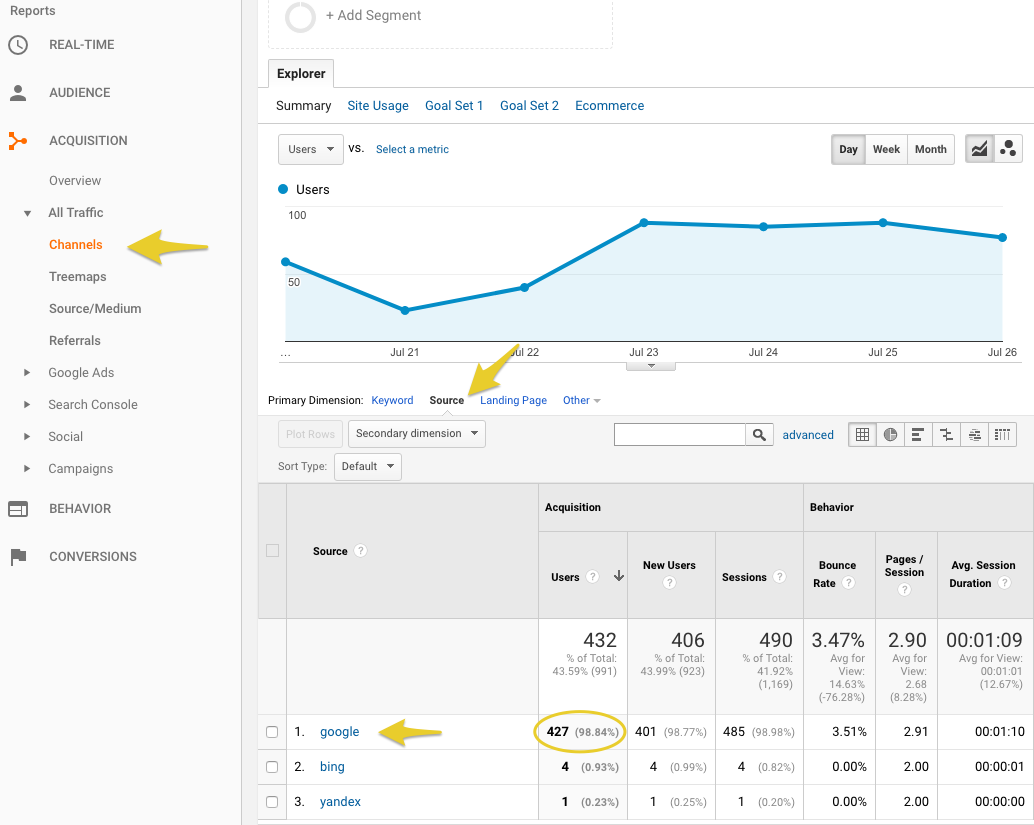 Google Analytics
When your Google Analytics web property is associated with Google Search Console, it gives the ability to see Search Console data in your Google Analytics reports. You will then be able to set up specific reports and goals to track your website's performance. Google Analytics reports on Organic Search volumes, user engagement metrics and goals will also be key to your ongoing SEO.
SEO Module or Plugin
Most CMS have the ability to manage your SEO. This is likely done through a module or plugin, but make sure you can address important technical and on-page SEO elements — sitemaps, robots.txt, rel canonical, 301 redirects, titles, meta descriptions, etc.
SEO is About Keywords
If SEO is data driven, it is also very keyword driven. Users start their search with a query in Google. Even if they are use
voice search
users are likely going to speaking some form of a keyword to start their search.
Keyword research
Keyword research is a key activity for successful SEO. Once you figure out which keywords to optimize for pay close attention to these key areas:
Over-optimization of content.
Keyword stuffing can put a domain on the wrong side of Google. You don't have to follow a magical
keyword density
formula — just place keywords naturally. Most importantly, think of your users. How can you use keyword placement to make their experience of the content optimal.
Tip:
Read your content aloud. If it stuffed with keywords you'll be able to hear it right away.
Use keyword variations.
Use variations of the primary keyword, like plural or synonyms. Use other keywords that support the topic or ideas behind the primary keywords. For example, the primary keyword is '
network monitoring
', and a keyword that supports that might be '
infrastructure performance data
'.
Tip:
Google Suggest, Google Keyword Planner, and communities like Quora, or Reddit are great for researching variations of keywords people are searching for.
SEO On-site optimization
Your digital experience is about the user, and so is the on-page SEO, but it also also about the search engine. To improve your site's rankings, provide a clear signal about what your content is about.
Use keywords in your URL.
Google prefers shorter URLS
, and it makes sense to use the primary keyword in the URL:
it will tell the search engine what the target keyword is
it will make the URL more descriptive when searchers are scanning the search results page
Tags and descriptions — the metadata stuff.
Elements like titles, subtitles, alt tags and meta descriptions are important on-page SEO factors. They all should feature the primary keyword:
The title does not exceed 70 characters
h1, h2, and h3 tags are scannable so use keywords to help your users
The alt tag allows users to figure out the image's meaning if it is not displayed on the page
Meta descriptions should be just that — descriptive and feature your primary keyword
Internal links.
Linking content pages together creates crawling paths for search bots and are an excellent means of funnelling users to a conversion goal.
Website structure, navigation, and UX factors.
A good guideline to keep in mind is the three-click rule. Users, and search bots, should be able to find any information on a website within three clicks. The bottom line is that a digital experience must be easy to navigate, and the structure simple and cohesive. For more information on the importance of technical SEO visit another article on this subject:
While SEO keeps evolving, it is important that you lay a solid foundation for success - that starts with Technical SEO.
Main Photo by Thor Alvis on Unsplash
Back to Blog