Reaching Out to Users: Why and How to Add a Live Chat to Drupal
Nov 07 2022
Author: Nadine Nykolaichuk
Your website is your company's digital office that needs to be as welcoming and supportive as possible. Whenever your current or prospective customers want to talk to you to resolve a problem, answer a question, or make a purchase decision, you need to provide this option to them.
Among all customer support channels, a live chat is one that stands out. Customers love it, and it also has a wide range of practical benefits for businesses that we are going to discuss further in this post. In addition, we will touch upon the capabilities of AI chatbots and run through a couple of examples available on the market. Finally, this article by the ImageX Drupal development team will also feature a simple step-by-step guide on how to add a live chat to a Drupal website.
The key benefits of live chat for businesses
Getting an instant, accurate, relevant, and complete answer in a simple live chat form is often more convenient and less stressful for customers than going through long and tedious email communication, struggling with interactive voice responses (IVR), suffering endless elevator music while waiting in a call center queue, or searching through heaps of documentation. 
This does not mean you must give up on a good FAQ section or other customer support channels suitable for your organization. You can win from a combination of those, but a live chat remains unmatched in many situations and for many clients. 
Tidio's survey says 43% of consumers prefer live chat to other customer support channels and 87% rate their live chat conversations as positive. Also, according to The Power Of Live Chat article by Inc., 44% of online consumers think a live chat is an important site feature. While customers obviously find this support format convenient, let's dig deeper into how it can promote your organization's success:
Visitors are more likely to convert when they have their questions answered in full, their problems resolved, and their decisions encouraged. Sometimes, just one question — and one answer — separates a visitor from a customer. According to a study by Zoho, 49% of organizations across different industries saw an increase in conversions within 2 years after adding a live chat to their websites. Tidio's survey shows that customers who use a live chat are 513% more likely to buy.
Customer loyalty and retention
Assisting your customers is a way of making them happy with your brand, building rapport with them, and encouraging them to stay with you. According to Kayako's survey, 51% of consumers are more likely to stay with or buy again from an organization that provides live chat support. Let's also imagine a disappointed client who cannot resolve an issue with your product or service and is likely to give up on your brand entirely. An attentive and careful approach from your team in a live chat can prevent this from happening. 
Spotless brand reputation
Disappointment with your products or services and no convenient way to reach out to you might lead your clients to social networks and various rating and review venues. Adding a live chat to your website could help you avoid public complaints and protect your company's image.
Do your competitors have a live chat? If they do, you need to catch up, and if they don't, adding it is your chance to gain an advantage. When a client is choosing between two options and needs an extra consultation, chances are high they are going to opt for a company with a live chat on their website. This idea is confirmed by Tidio's survey which says 63% of consumers are more likely to purchase from a company that offers a live chat.
Your customer support specialists can switch between the live chat windows and handle a couple of operations simultaneously, especially if these are routine questions. They can see the conversation history of specific clients instead of digging it out of the email box or trying to remember a phone conversation. In addition, many standard phrases that serve as conversation starters can easily be automated. Some live chat software offers multilingual features so your support team can easily assist a wide range of clients from across the globe.
A live chat enables you to understand your customers' needs, problems, preferences, doubts, etc. These are real treasures in the world of marketing that can greatly help you make informed product decisions. Some live chat software offers handy reports about customers' behavior and integrates with tools like Google Analytics. This study by Zoho shows that 43% of organizations think they have gained a better understanding of their customers within 1 year after adding a live chat.
If your company is always available for a live discussion and it is not hiding behind the beautifully-designed walls of its website's pages, it looks much more trustworthy in the eyes of current and potential customers.
A live chat icon on the website's pages signals visitors that you are available whenever they need you and encourages them to start a conversation. In addition, the software can be configured so that a conversation window pops up at specific moments when clients might need help — for example, when they are stuck with a form submission for a long time.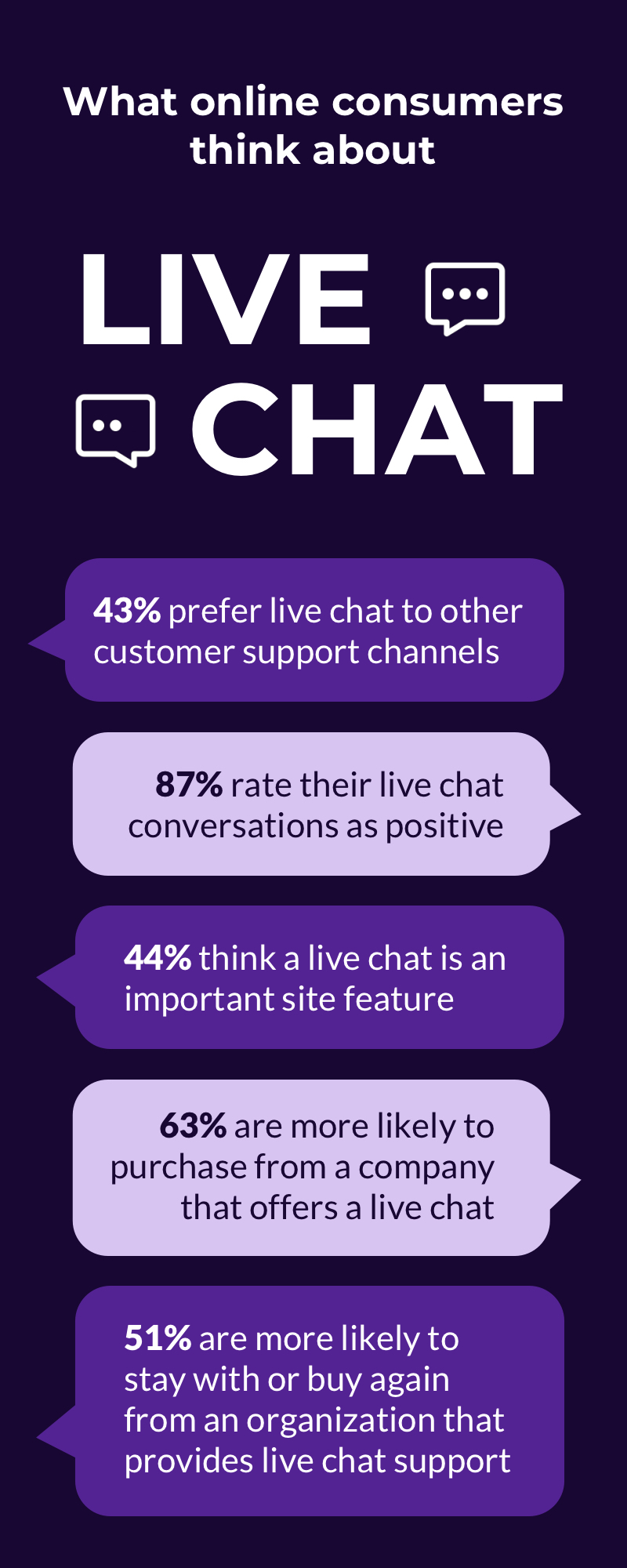 Communicating with customers using AI chatbots
Discussing the live chat functionality in the 21st century would be impossible without mentioning the capabilities of artificial intelligence (AI). Increasingly, brands are relying on AI chatbots for a variety of areas of communication with their customers. This includes customer service, brand promotion, and even sales.
AI chatbots are programs on a website or application that use NLP (natural language processing) for understanding the customer's intent and giving answers in a human-like manner. AI chatbots are especially great at answering frequently asked questions and helping users navigate through the website or application.
There are a great number of AI chatbot options on the market, and the options can feel overwhelming. Among them, to name a few:
Drift. The creators of this software say it can identify the patterns for customer engagement and conversions based on 6,000,000,000+ conversations used for training its AI.
LivePerson. This assistant can automate any industry's messaging thanks to collecting 20 years of conversational data and feeding it to the AI. It has great integration capabilities and a no-code chatbot builder studio.
Mindsay. This a low-code AI messaging platform that enables you to easily build a bot. Its conversational AI can be tailored to different industries' needs due to the company's expertise with top companies across sectors.
Watson Assistant. This program can be pre-trained with your industry-specific content, redirect customers to your human team, look for answers in your knowledge base, and more.
How to add a live chat to a Drupal website: a step-by-step guide
If your website is built with Drupal, there are many great options for adding a live chat. Drupal has outstanding third-party integration and customization capabilities, so you can talk to Drupal experts to integrate the live chat software of your choice. In addition, Drupal also has a wide range of free contributed modules that simplify its integration with various services, and when it comes to modules for live chats, the LiveChat module is currently the most popular one.
This module offers a wide range of capabilities for advanced live chat experiences. Just like all of Drupal's community-created tools, it is absolutely free for everyone to install. The LiveChat software, however, will require a subscription plan after a 14-day free trial.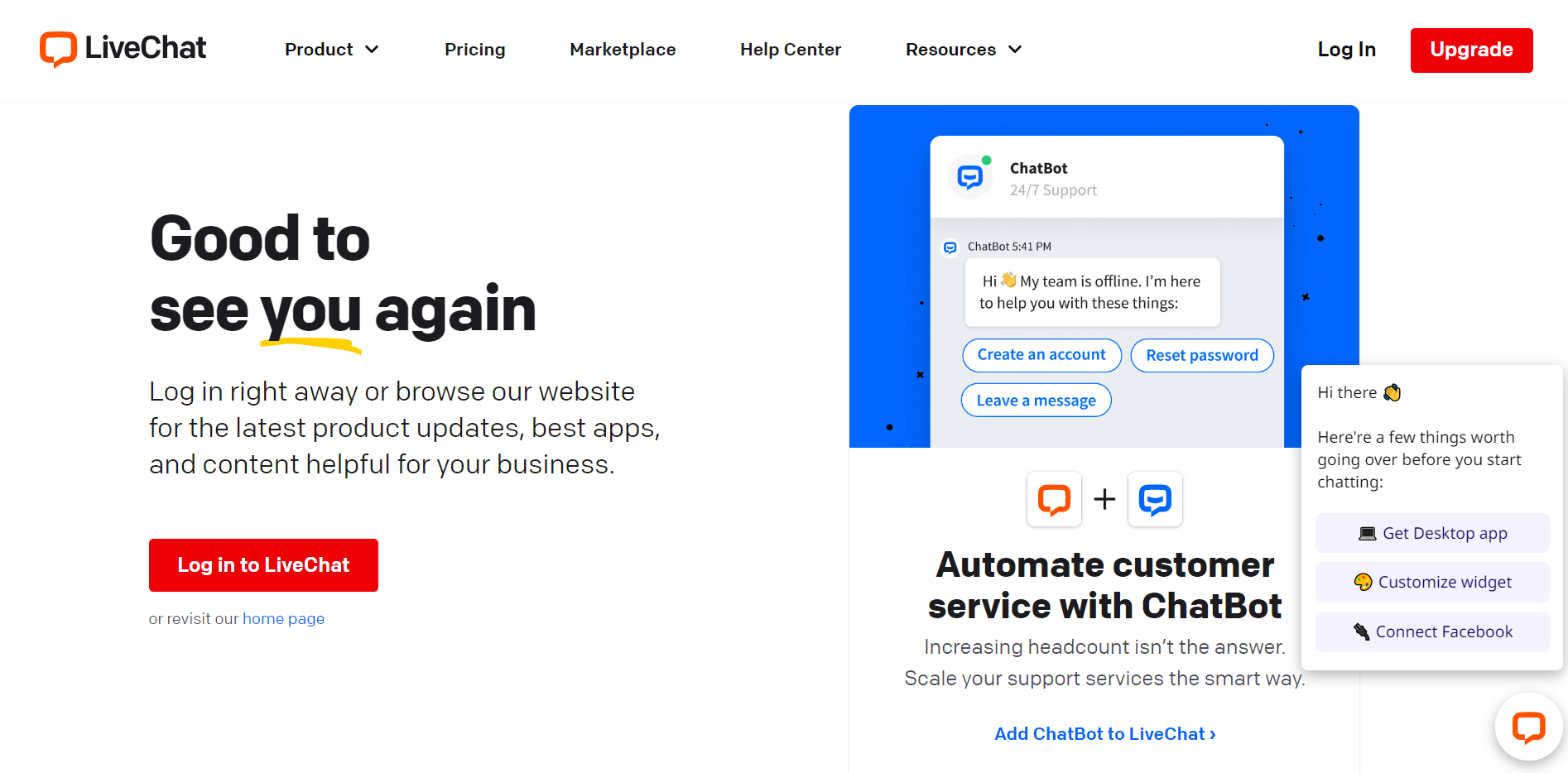 The following steps are needed to add LiveChat to your Drupal website:
1. Module installation
You will need to install the LiveChat module on your Drupal website. The highly recommended way to install modules in Drupal 9 is by using the Composer command-line tool: 
composer require drupal/livechat
Alternatively, you can download the module from its drupal.org page and add it via the Extend tab of your Drupal admin dashboard. As the next step, enable the newly added module by checking its box and clicking "Install" at the bottom of the page.
Now that you have the module installed, there are two ways to access its settings page:
by clicking "Configure" next to the module on the Extend tab
by clicking "LiveChat" in Drupal's main menu under Administration > Configuration > Web services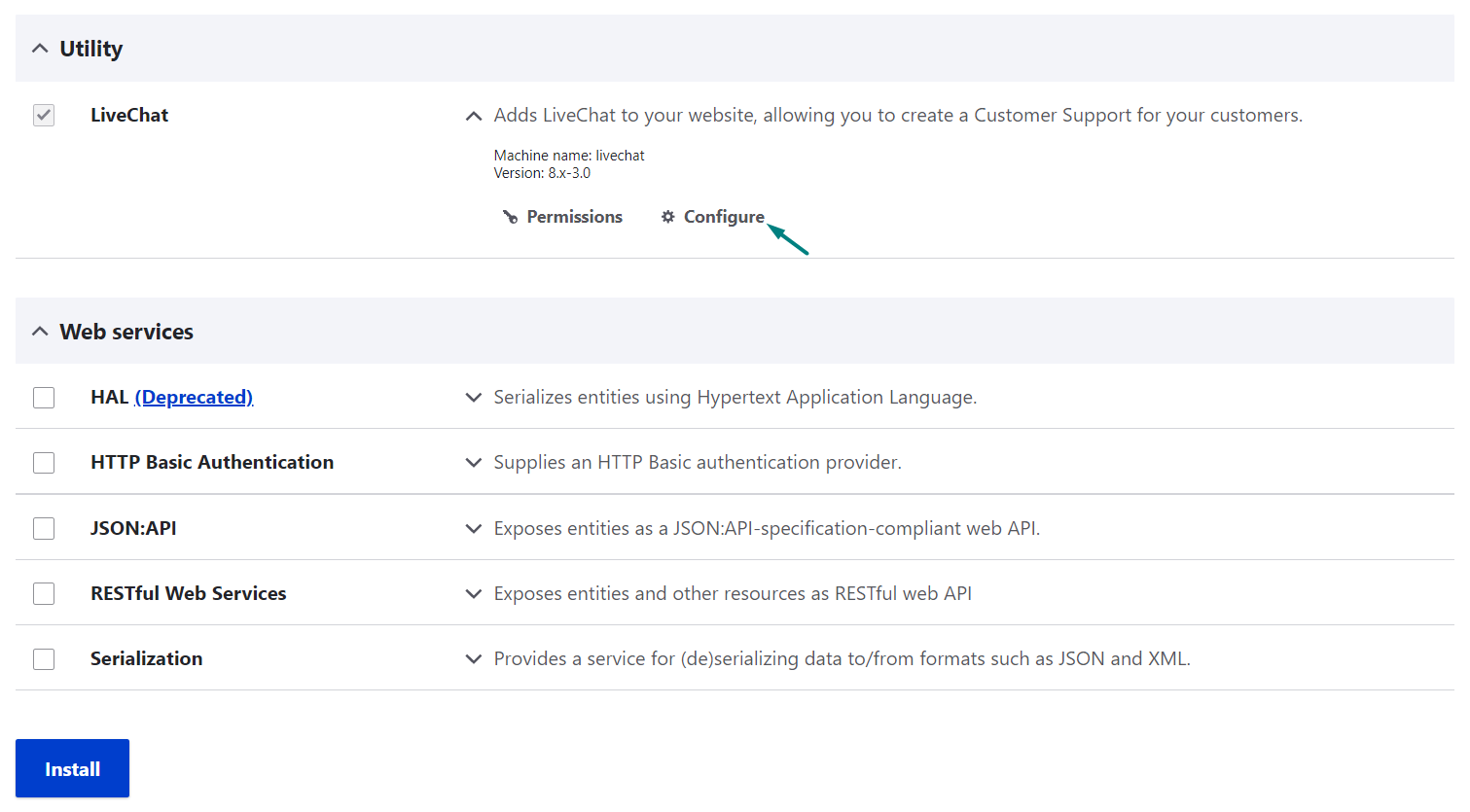 2. Authentication and initial setup
The first thing you will see on the module's settings page are the options to sign in with LiveChat or create an account if you don't have one yet. It's possible to quickly sign up using a Google account. LiveChat will just take you through a couple of simple sign-up and setup steps.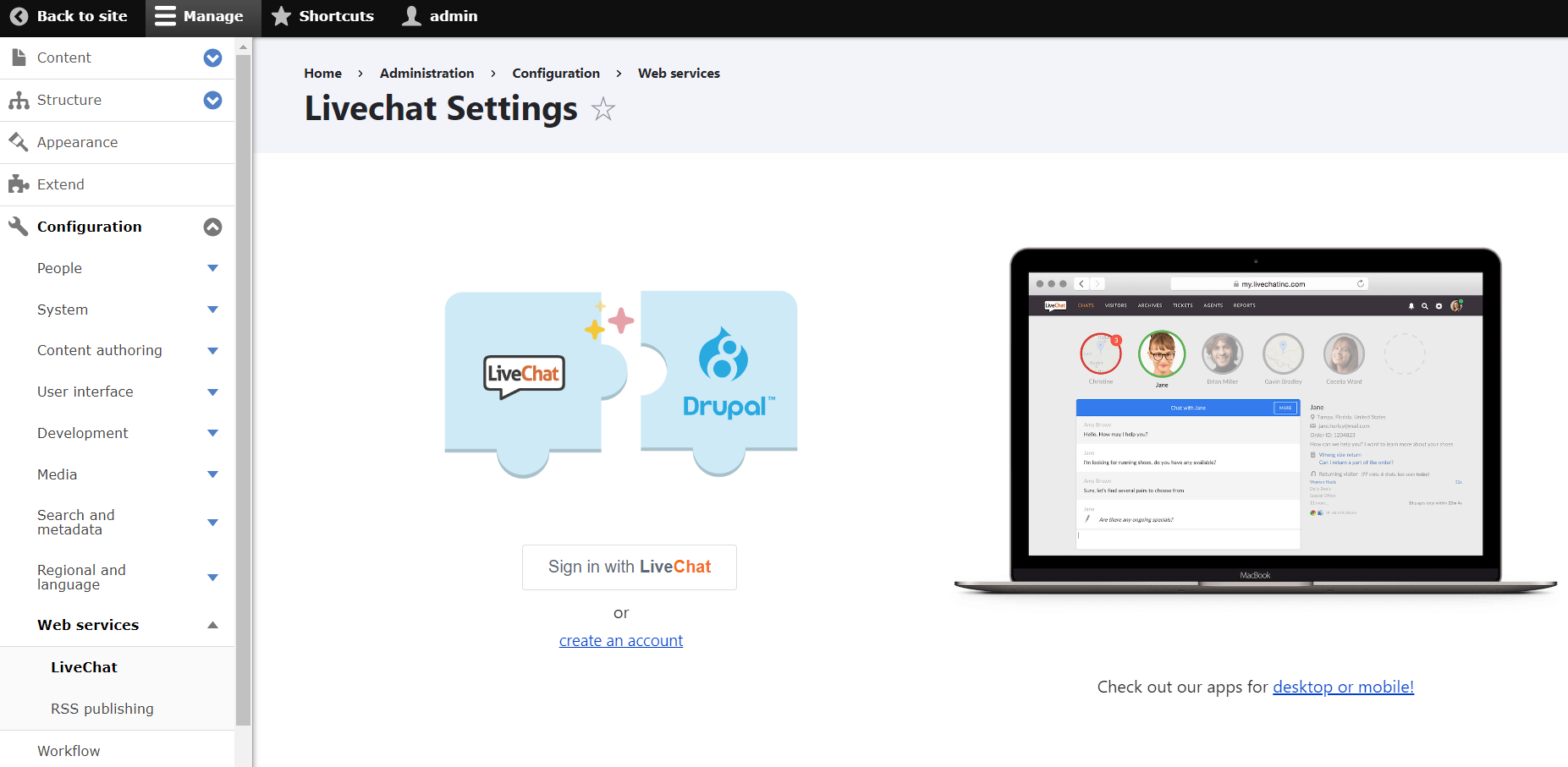 During these preparatory steps, LiveChat will offer you some interesting options. Among them is receiving messages from your Facebook pages, as well as inviting other team members via their email addresses and granting admin rights to them.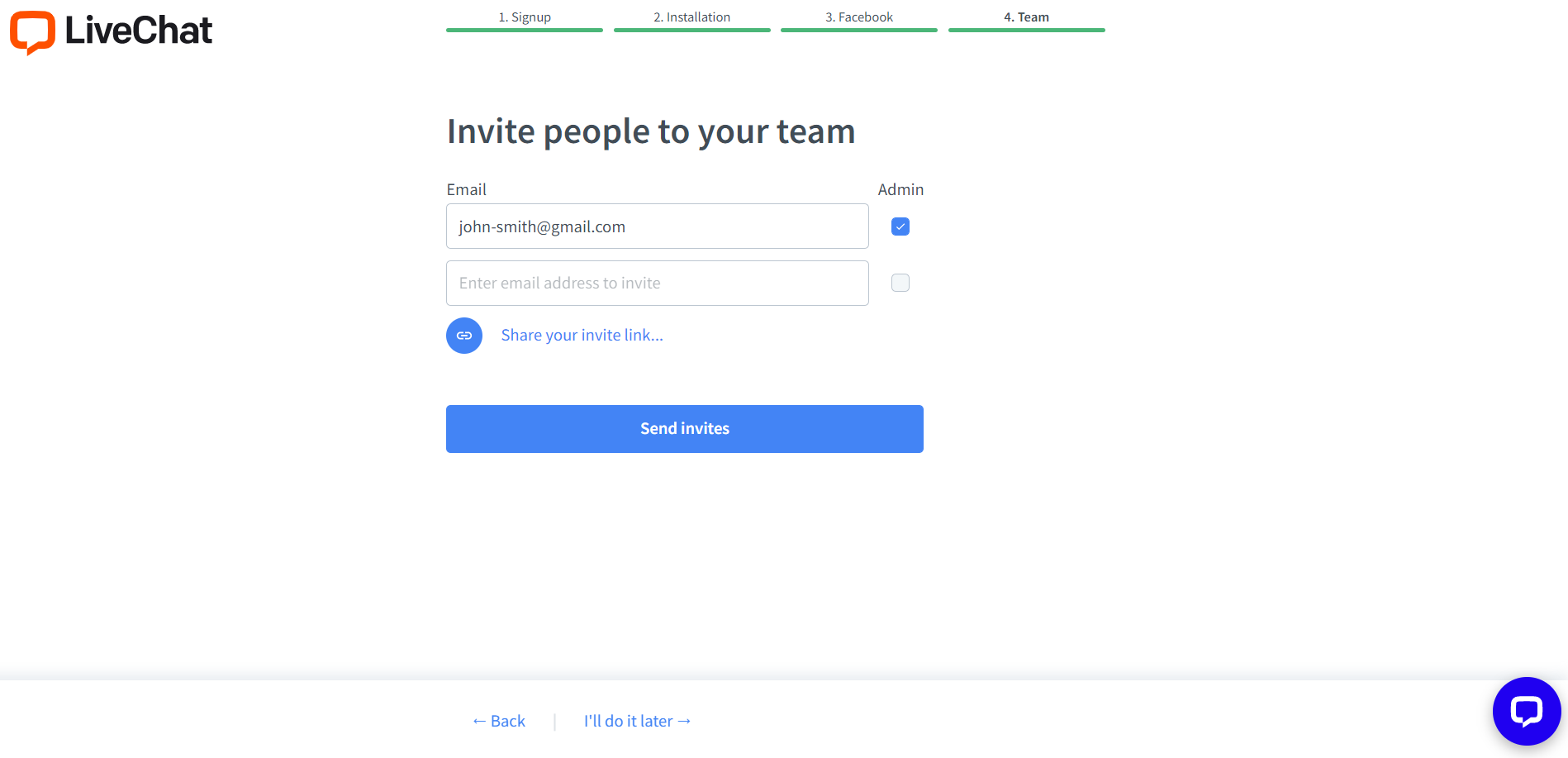 Once the steps are completed, you will see a message on the module's settings page that you are now rocking your chat window from your account. The page offers you the option to hide the chat widget on mobile and for logged-in users. By default, it's "no" for both. 
The default setup is absolutely ready for you to use. You will be able to customize every detail to your liking at any time on the actual LiveChat dashboard.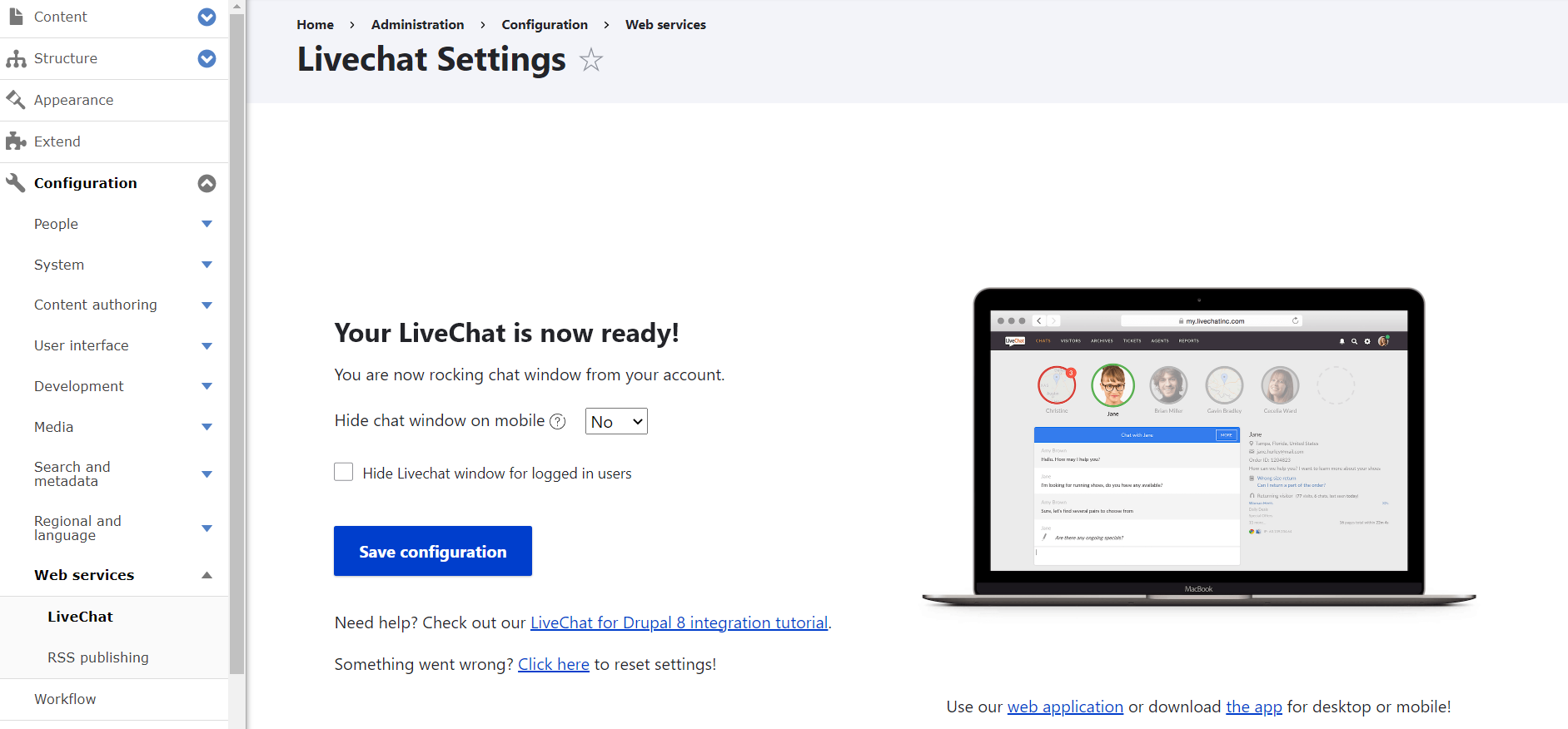 Right out of the box, you have a chat icon in the right bottom corner of your Drupal website's front-end pages.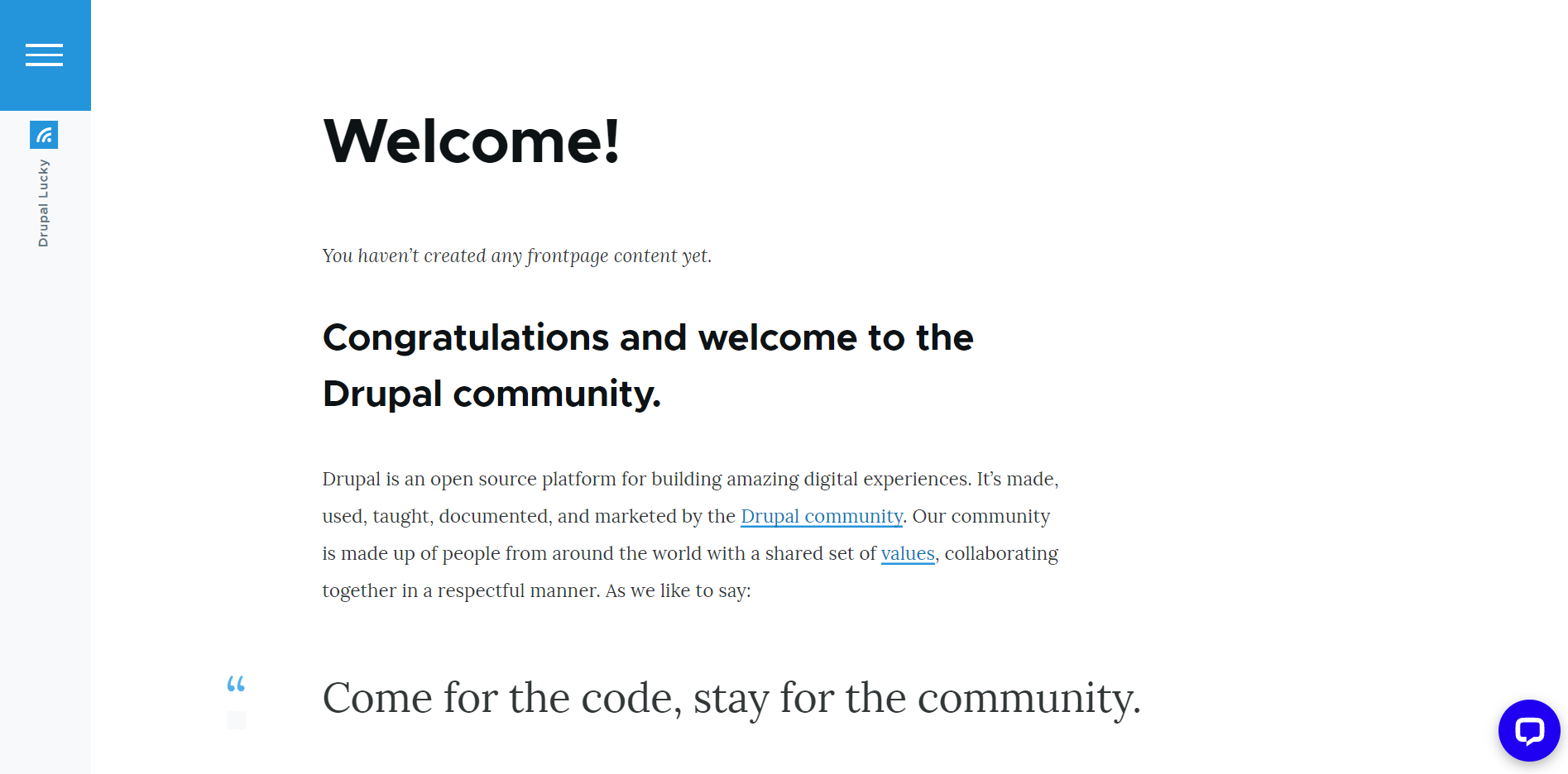 Once a visitor clicks the icon, the chat window opens with a welcome greeting. If they click "Chat now," they will be asked to add their name and email address to start a conversation. The window will display the support agent's name with a message offering help. There is a like/dislike icon a visitor can use to rate the agent. As a visitor returns to the page again, there will be a welcome-back message. You will be receiving voice notifications about new visitors and incoming conversations.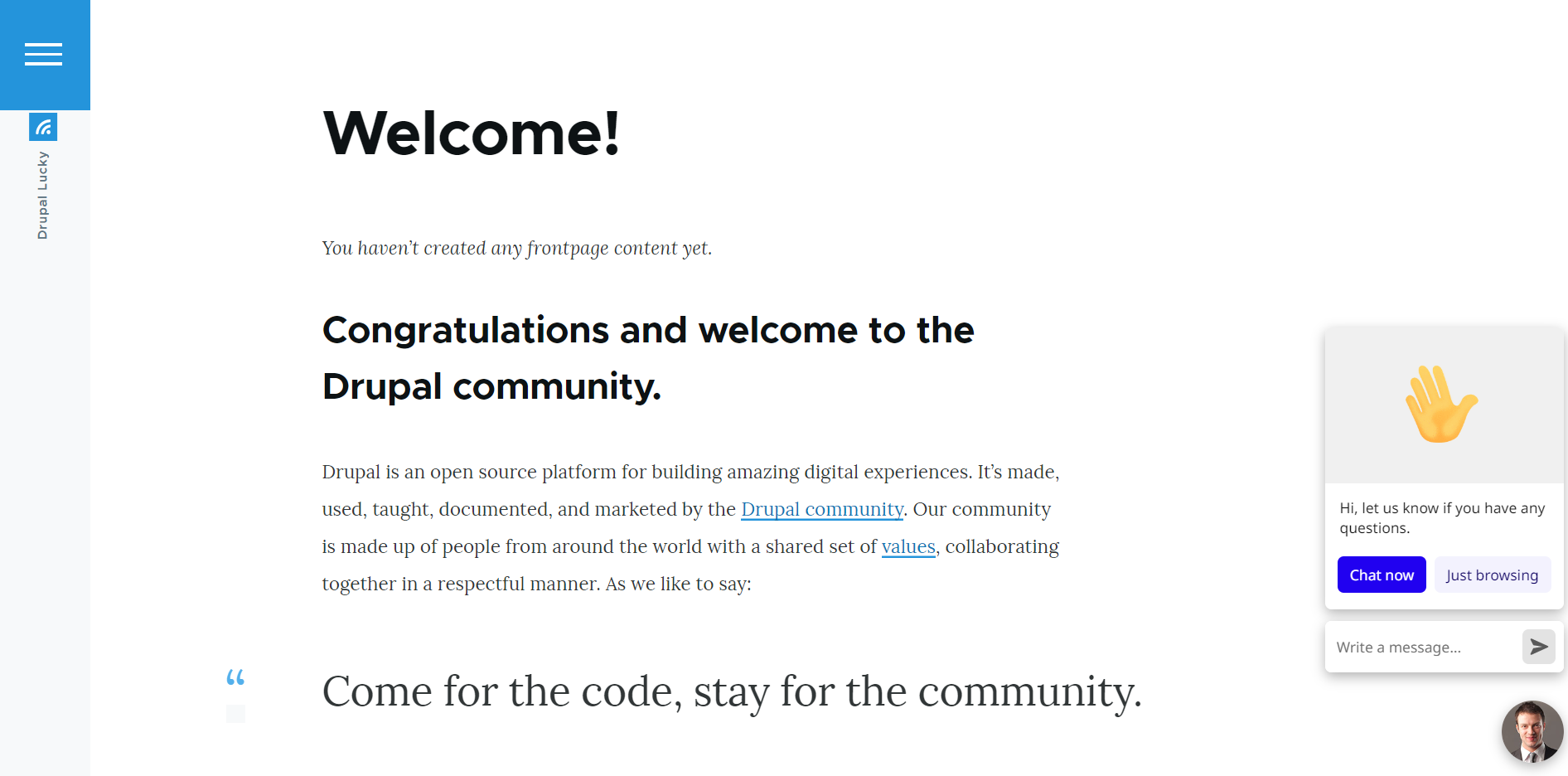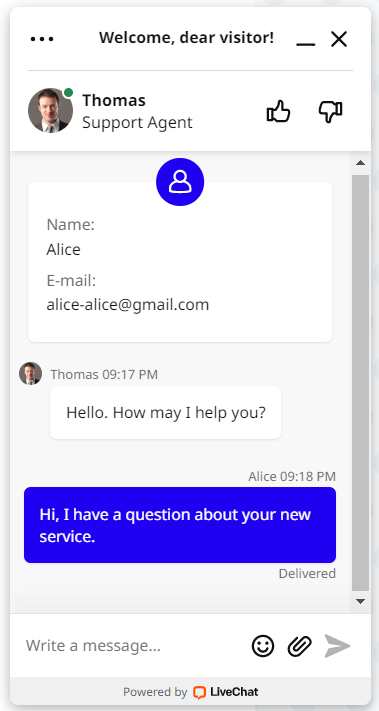 3. More settings
The above example shows almost the out-of-the-box setup of LiveChat. We have tweaked it just a little bit. Namely, we have edited the agent's name and added his profile picture by going to the Agents tab of the LiveChat dashboard. We have also changed the top bar message in the chat window to "Welcome, dear visitor!" on the Settings > Language > Customize phrases tab of the same LiveChat dashboard.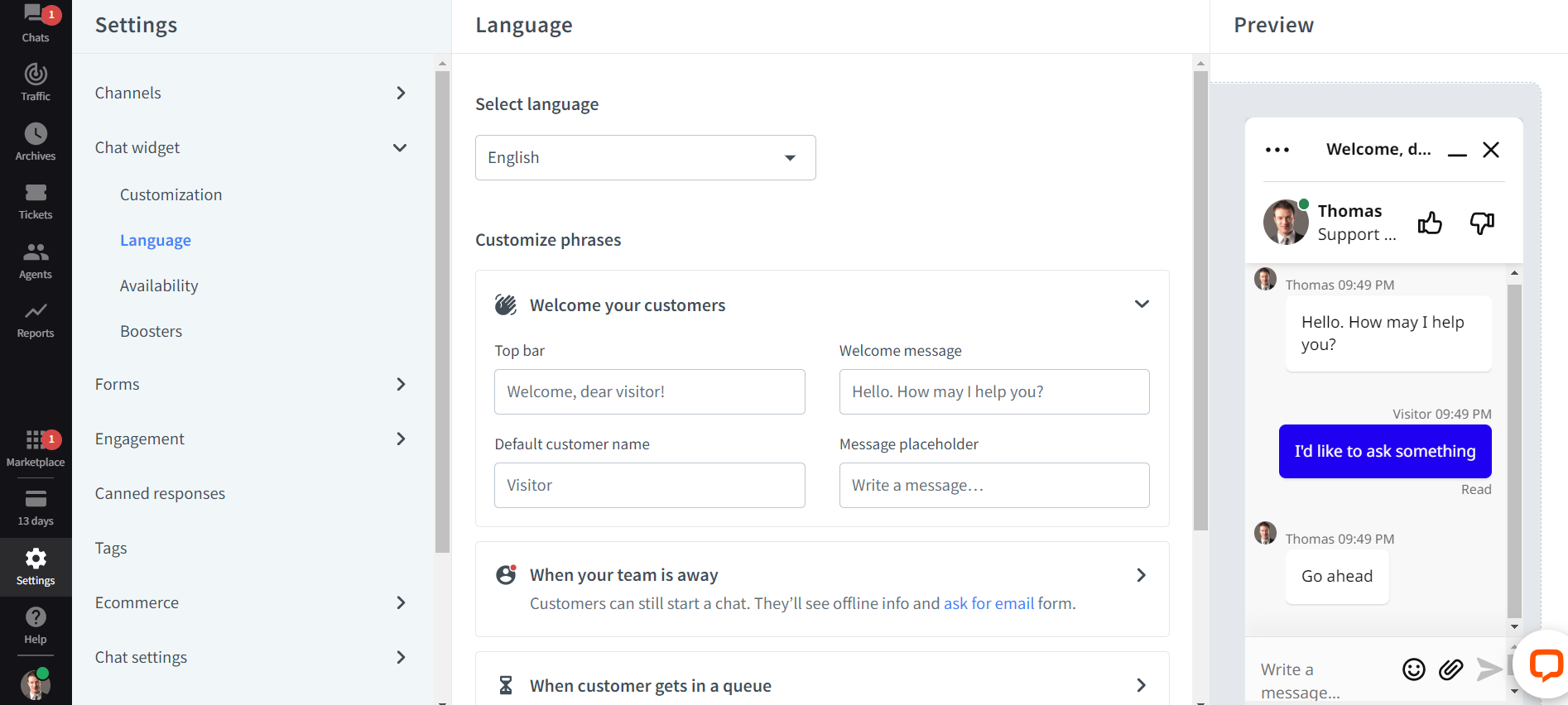 The dashboard offers tons of other interesting options to play with. Among them are the following:
The Settings tab enables you to configure every detail as regards the appearance of the web and mobile widget, greetings, notifications, pre-chat and post-chat forms, ratings for agents, distribution of conversations among the agents, security precautions, and so on.
You can view all dialogues, reply to them, check traffic, get detailed reports of communication, and more. 
The links to add MailChimp, HelpDesk, Instagram for Business, HubSpot, and other services are found directly in the LiveChat menu.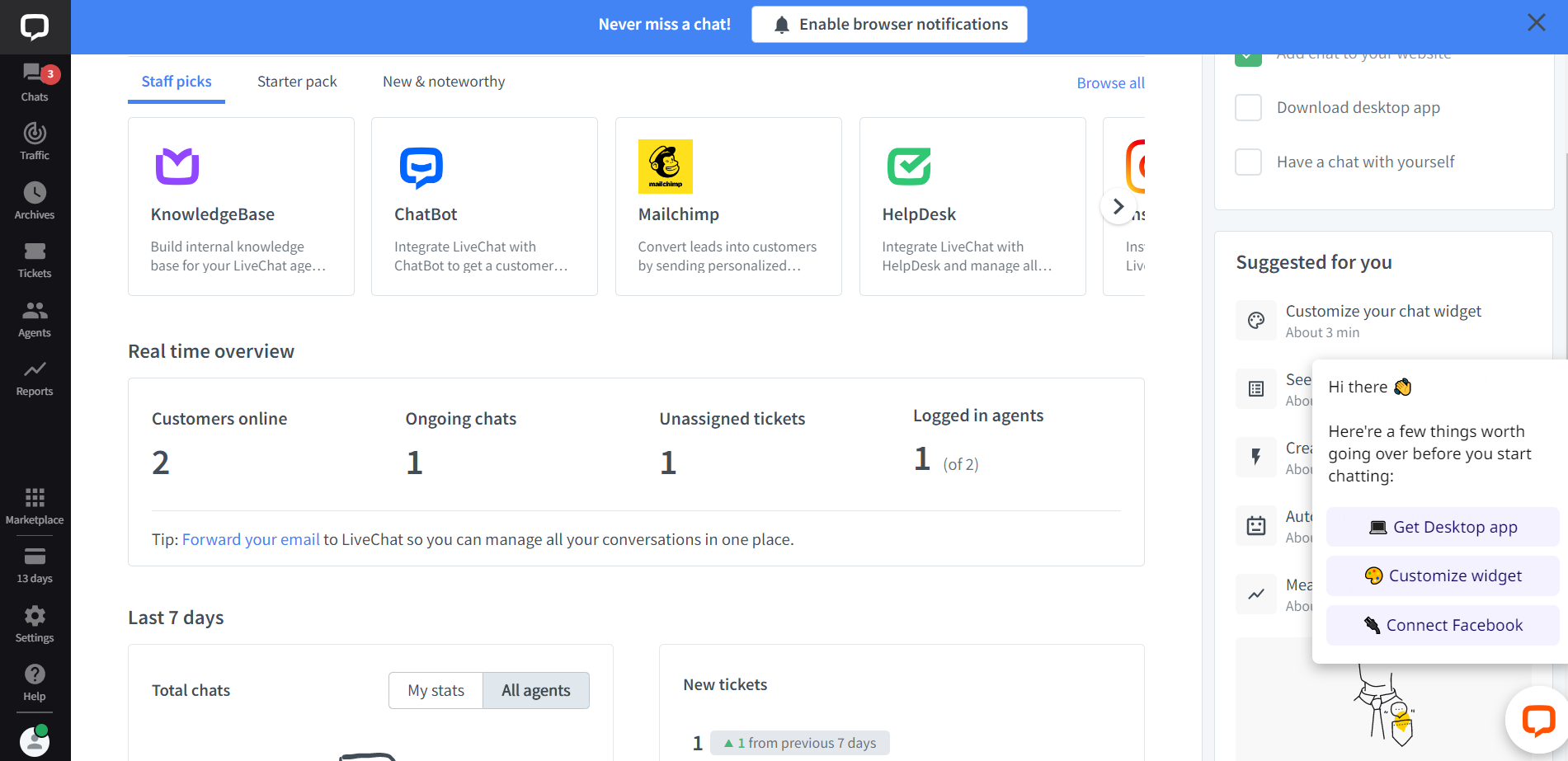 Do you always have to go to the LiveChat app to configure something? Not necessarily. You can also do some design tweaks directly on your Drupal site. There is a new and interesting option in LiveChat that you can access by going to Settings > Chat widget > Customization and opening the "Customize widget on website" tab. 
By clicking on the arrow next to your website URL, you will be taken to your Drupal website where you will see the LiveChat Live Editor. It will enable you to customize the colors, the light or dark mode, the maximized and minimized widgets, the alignment, and the spacing of your chat.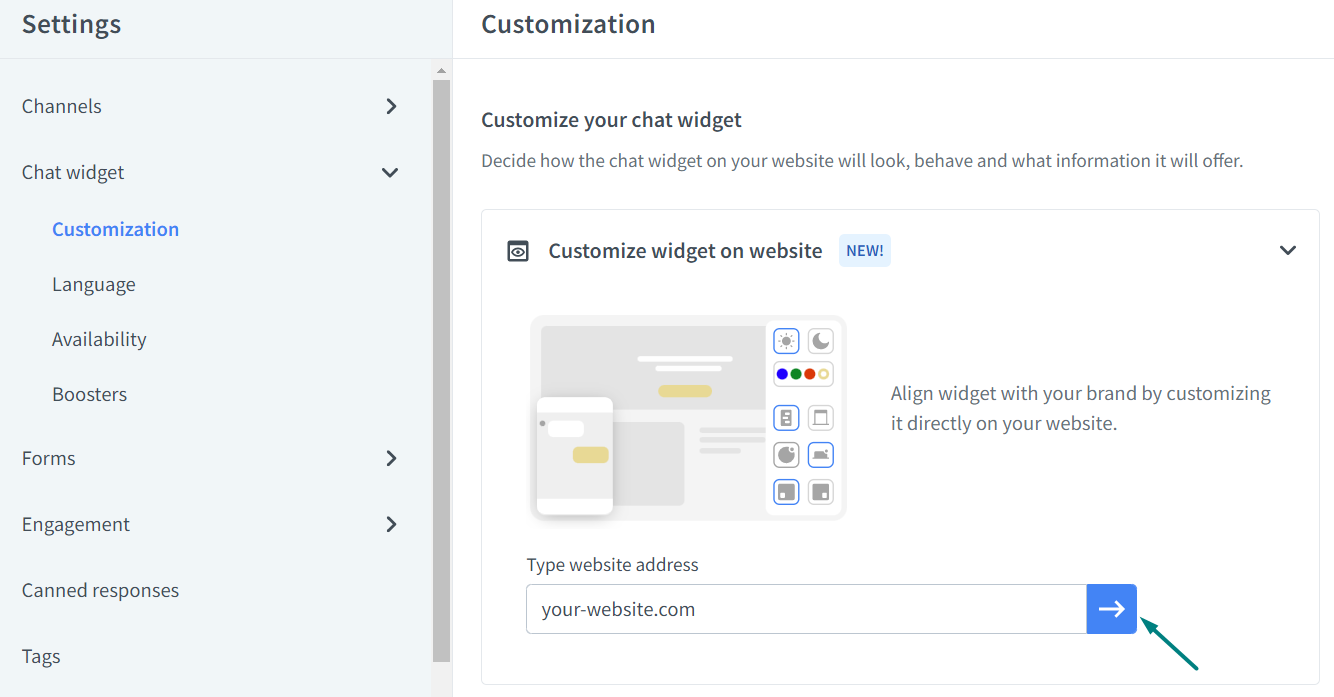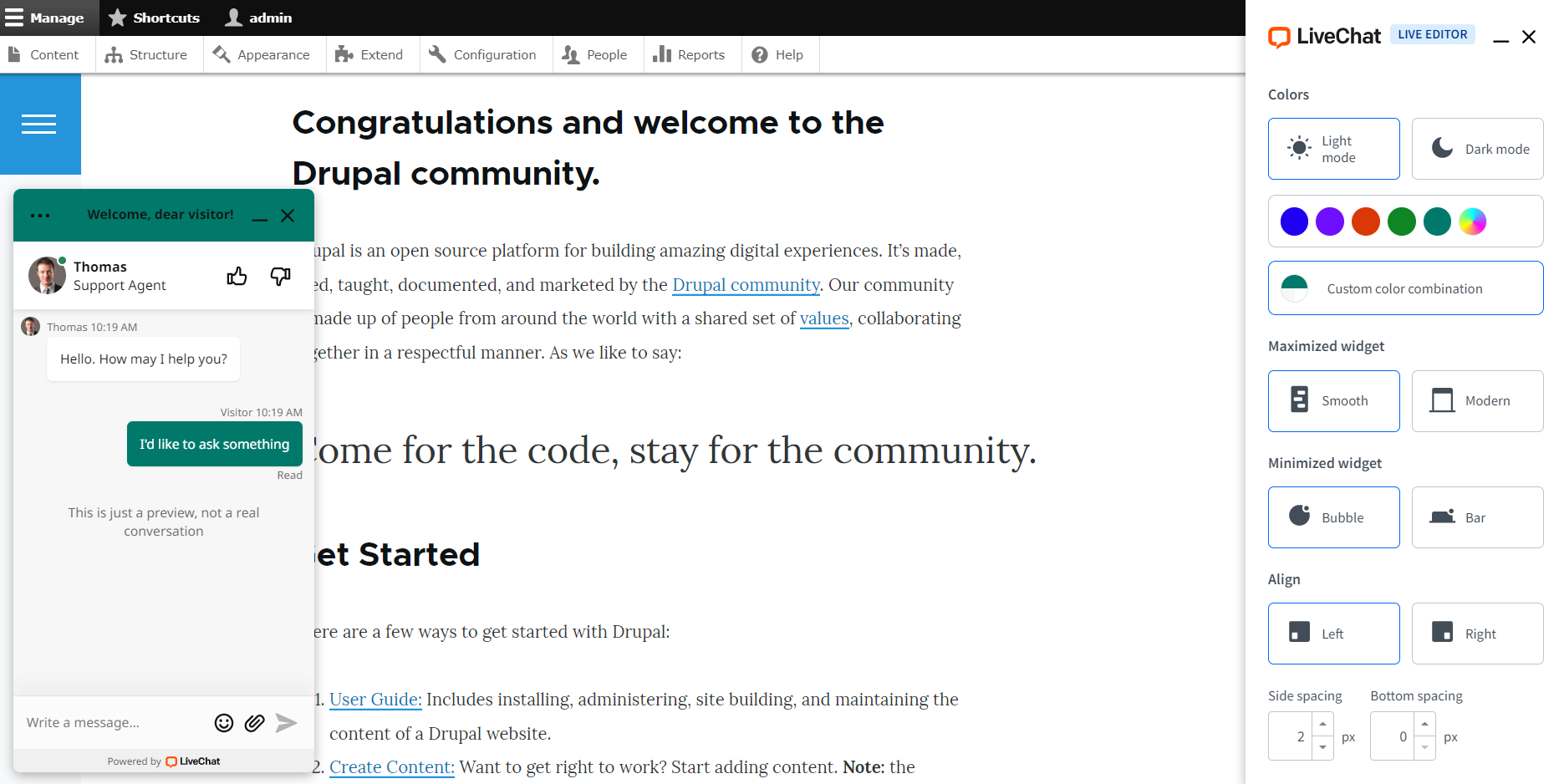 Final thoughts
A live chat can be configured in full accordance with your organization's needs and workflows. We can help you add a live chat or any other feature on your website for your successful communication with customers. Our Drupal team has the expertise and experience to create the most compelling digital experiences for your audience. So reach out to chat with us about it today!
Learn from us
Sign up and receive our monthly insights directly in your inbox!