3 Easy (and Effective) Ways to Strengthen Your Nonprofit's Digital Strategy
Apr 20 2023
If you're like the marketers at many nonprofit organizations, there's always too much to do and too little time in which to do it. As a result, your digital marketing efforts may feel more like playing a game of whack-a-mole than enacting a thoughtful, integrated strategy.
Sure, you launch campaigns to increase awareness of your nonprofit in the community, drive traffic to your site, and promote your services to the people who will benefit from them. You post updates on social media and email your supporters. And your website content is largely up-to-date and engaging.
But is your content telling the right story? Are your marketing tactics tied to the right goals? Are you seeing the results you're looking for? And are you sure you're devoting your limited resources to the areas with the highest impact?
Your nonprofit organization is on a mission to make your corner of the world a better place, so you can't afford to waste valuable time and energy spinning your wheels. By taking three simple but critical steps, you can create a digital marketing strategy that's tailor-made to advance your purpose-driven goals. 
1. Define and Prioritize Your Nonprofit's Business Goals
Sometimes the most difficult part of creating a digital strategy is simply knowing where to begin. After all, there's no shortage of tactics and channels you can leverage. But what should you do first? 
It all depends on where you're trying to go.
Before you start implementing new digital strategies, take a step back and think about what your nonprofit wants to achieve. What does success look like for your organization? What's most important to your mission? Is it most critical to:
Reach or surpass a specific fundraising goal? 
Increase the number of people your organization serves?
Rally your community around an upcoming signature event? 
Generate auxiliary revenue via your new eCommerce platform?
You might care most about increasing audience engagement with your social media channels in order to generate more awareness of your cause. Your CEO and Board of Directors might want you to revamp your content strategy to demonstrate your nonprofit's impact so they can win the support of major donors. And your program director might want you to devote your paid media budget to ads designed to boost registrations for a particularly underutilized service. 
All of these are worthy goals and effective strategies. But unless you have unlimited resources, it's unlikely you'll be able to do it all. You'll need to reach alignment about which goals are most important so you can focus on the areas of greatest impact.
It's also worth mentioning that your nonprofit's goals will likely change based on the time of year you're in and/or what's going on in a particular program. Creating a calendar is a smart way to keep your digital strategy focused on what matters most at any particular moment.
2. Tailor Your Digital Strategy to Your Audience 
Once you decide which goals to work toward first, you'll need to think through the best way to connect with your audience. Just as all goals aren't created equally, neither is your audience. So be sure to consider:
Who you're targeting
What you want them to do
What information or prompts they need from you to take the desired action
How you can best reach them and drive them to your site (e.g., via social media? A paid media campaign? Rich snippets on search engine results?)
Any accessibility needs and multilingual website requirements they may have
The user journey they'll take toward their goals
For example, the tactics the American Association of Retired Persons (AARP) uses to reach an older audience should be vastly different from the strategies a YMCA uses to promote childcare and summer camp options to young families. Where AARP might see success from email campaigns that drive their audience to landing pages chock-full of in-depth information, the YMCA is more likely to achieve its goals with social media posts and video campaigns that are easily navigable on a mobile device. 
You know your audience, and you know what makes them tick. But if you're struggling to nail down the right digital strategy for each segment of your audience, consider investing in user research and testing. This will allow you to gather helpful qualitative data to inform your strategies moving forward.

3. Track the Right Metrics to Measure Your Digital Strategy's Effectiveness  
It's also important to measure the effectiveness of your digital strategy. You should know how much money you're spending on each tactic and the ROI of each in order to leverage resources wisely. You also need to know what's working and what's not to make data-driven decisions about optimizing performance.
For example, we've worked with YMCAs in a variety of locations to evolve and strengthen their digital strategy. One of their goals is to create healthy communities and families. And one measure of success is whether their soccer, aquatic, and other youth-oriented classes are full. 
They use a variety of digital strategies and tactics to promote the courses and boost registration. Then, using Google Analytics and other tools, we help them assess:
The number of registrations completed for each available class
Where the registrants came from (i.e. Did they click on a paid ad? Click through a social media post? Respond to a promotional email? Find the site via organic search?)
The exact terms and phrases site visitors used when searching for course offerings 
What pages users looked at while on the site 
How users interacted with each element on a page (a tool like hotjar heatmaps makes this easy and visually interesting)
The abandonment rate to determine how many interested users started the process but exited before finishing the task
Looking at data points like these will also help you make rational decisions about the best way to tweak and evolve your digital strategy. It can also help you know when to let go of things that aren't working. You may assume a web page or piece of content absolutely vital to your strategy. But if you discover that piece of content has zero page views, it's much easier to move on to a new approach.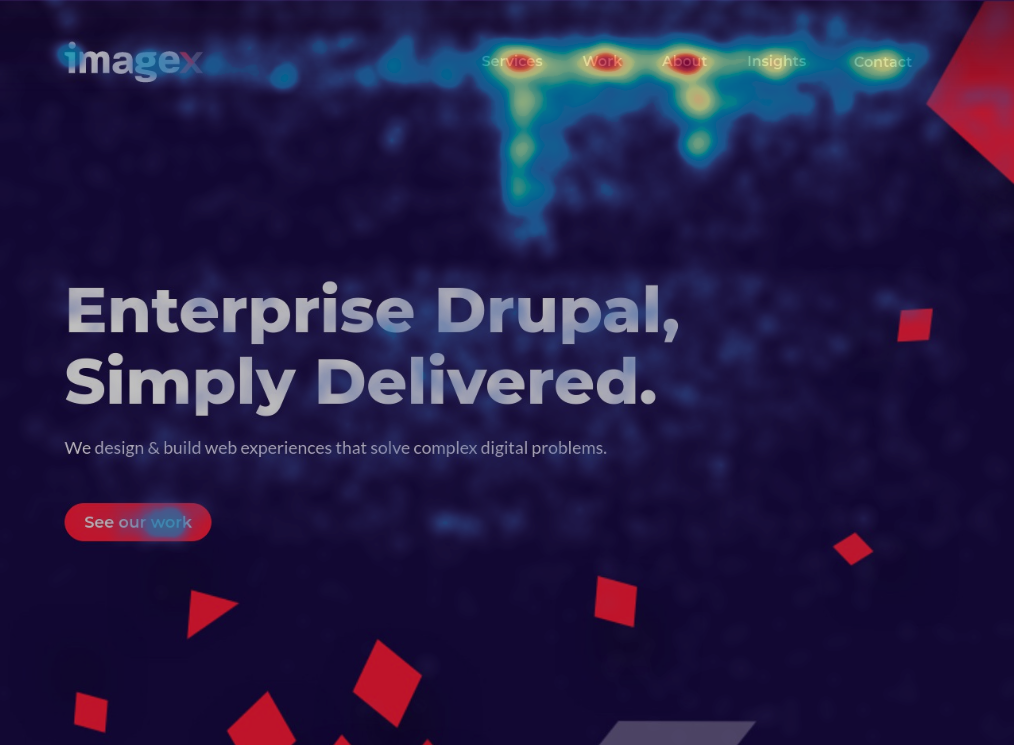 Strengthen Your Nonprofit's Digital Strategy Over Time
As a nonprofit marketing leader, you undoubtedly want to serve your constituents, inspire your donors, meet the needs of your members, and live up to the promise of your vision and mission. To achieve these lofty objectives, you need to create a smart and effective digital strategy that propels your organization forward.
The good news is you don't have to do it all at once. 
Start by defining and prioritizing your goals. Then, choose the digital strategies that are right for your target audience. And finally, track key metrics so you can adjust as needed. These three steps may seem small on their own, but taken together they'll become significant strides in the right direction.
Learn from us
Sign up and receive our monthly insights directly in your inbox!